Where Can I Get BMW Suspension Repair?
When your BMW suspension is in need of repair, chances are your shocks or struts are either worn or damaged. Maintaining a properly working suspension system contributes to the comfort, handling, and performance of your drive, and the certified technicians at Gebhardt BMW can handle the necessary repairs to keep you driving smoothly through Longmont.
How Do I Know if My Suspension Needs Repair?
Whether you have a BMW X3 or X5, or another model, you should know that your BMW vehicle contains an air suspension system that uses an engine-driven air compressor to create a safe and smooth drive around Broomfield. Air suspension is used instead of steel springs and provides a sportier driving experience. If you suspect your suspension is in need of repair, look for these tell-tale signs:
A rougher, bumpier ride
Increase in sway during windy days
Tire shaking or vibration after hitting holes or bumps
Leaking fluid
A faulty suspension will make your Erie commute needlessly uncomfortable, and should be addressed before it leads to further issues.
How Much Does Suspension Repair Cost?
Depending on the severity of the issue, suspension repair costs can vary. In addition to the parts and labor, the amount of rust and wear underneath the car can contribute to the overall total, as it can be more time-intensive to access and remove the parts in question. A wheel alignment may also need to be factored in to a suspension repair. BMW air suspension repair can cost up to $2,000, but getting a quote by a certified mechanic will give you the most accurate estimate.
Gebhardt BMW regularly offers a variety of service specials to help Louisville get back on the road quickly and affordably.
Suspension Repair You Can Trust
Taking care of your BMW is important, and the service team at Gebhardt BMW is here to help. We are passionate about the BMW brand, and know everything about how to properly diagnose and repair any issue you've experienced. For fast, friendly service you can rely on, contact our service department today!
BMW Maintenance Coupons in Boulder
BMW Winter Service Event - $25 Off BMW Accessories item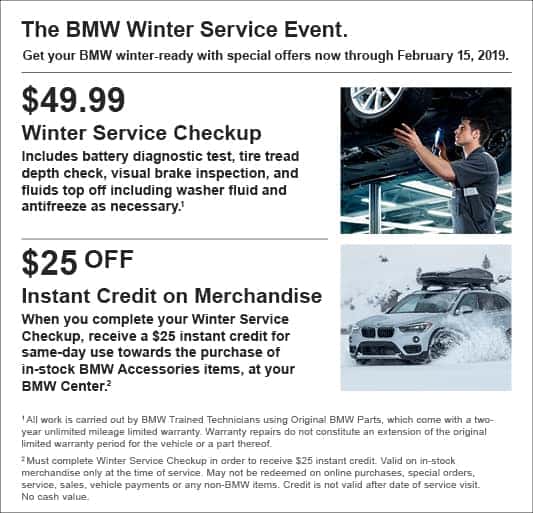 EXPIRES: 02/15/2019
Gebhardt BMW
4740 Valmont Road, Boulder, CO
Service: (303) 447-8000
BMW Winter Service Event - $25 Off BMW Accessories item
Expires: February 15, 2019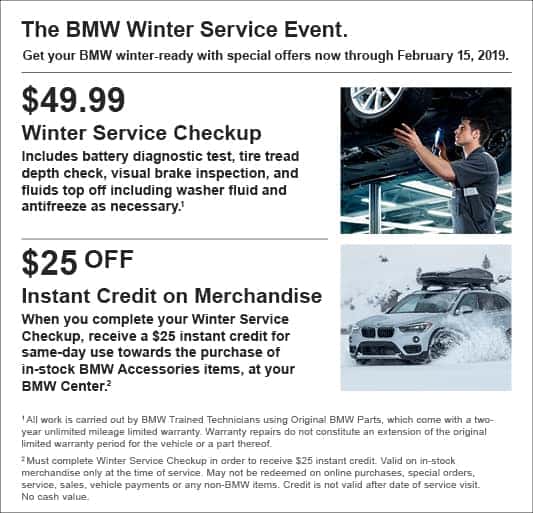 Gebhardt BMW
4740 Valmont Road, Boulder, CO
Service: (303) 447-8000
Tire Special
Expires: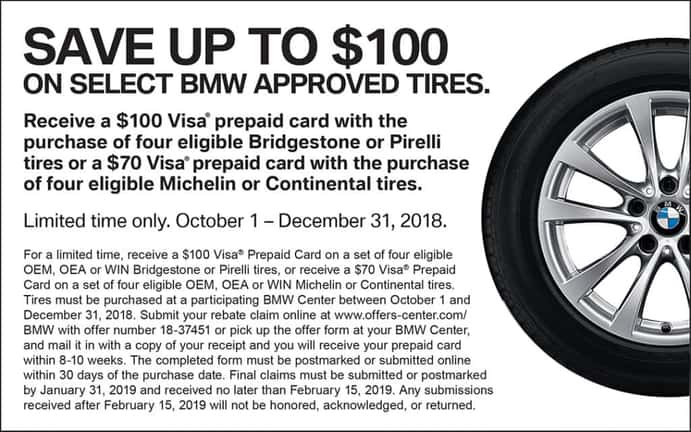 Latest from Gebhardt BMW
This holiday and winter season there is no shortage of fun, festive things to do from Broomfield to Denver. If you're itching to hit the road in your sporty new BMW X3 or X5 and show off what you can do in the snow, consider hitting one of these events and spread some good cheer….

The 2019 BMW X5 comes loaded with the most advanced interior tech paired with the best in luxury design. Some of the highlights of the 2019 BMW X5 interior include the Harman/Kardon Surround Sound System and a large panoramic moonroof for a clear views of the fresh mountain skies. Learn more about how the 2019…

New Gebhardt BMW plus Steamboat Lift Tickets Whats better than setting off for ski country USA in your new BMW? Two 3-day lift tickets compliments of Gebhardt BMW! Click here to see how you can get two *FREE 3-Day Passes to the Steamboat Ski Resort from Gebhardt BMW. Hurry! This special offer for Steamboat Ski…